Lending Library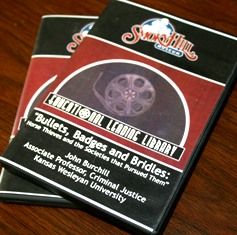 Enhance your lessons with free video presentations from the Smoky Hill Museum's Educational Lending Library. Expose your students to quality, engaging presentations offered by professors, historians, authors and more. This is a working, growing library with topics such as the impressive DC3 weather project, animals of the Pleistocene, cattle trails, the history of Camp Phillips, Schilling Air Force Base and more. Available to educational entities only.
Use the Lending Library form to check out a presentation. Or, call Nona Miller, Curator of Education, at 785-833-8023 or email nona.miller@salina.org.
Titles are arranged by topic for searching ease. Some titles may be in more than one topic group. Check back, as the list will be growing!
List of Lending Library Videos
DC3
Etzanoa: Uncovering the Great Settlement
Excavations at Fool Chief's Village
Immigration in Kansas
Kansas BC
Lions and Tigers and Bears: A Walk on the Wild Side
Oceans of Kansas
Petroglyphs of the Kansas Smoky Hills

The American Grain Elevator
Encounter with Zombie Culture: Myth and/or Fascination
Feel Your Oats (With Help From a Goat)
Harvey Houses: America's First Fast Food
History on a Piece of Cloth: Kansas Flour Sacks
Immigration in Kansas
Kansas Legends and Folktales
Tank Tops, Torpedoes & Tire Smoke
Understanding the Maya and the 2012 Apocalypse: Fact or Fiction
The Worst of Times: Life in America during the Great Depression

Beyond Cold Blood: The KBI from Ma Barker to BTK Part 1: Beginnings
Beyond Cold Blood: The KBI from Ma Barker to BTK Part 2: The Evolution of Kansas Crime
Civil War Medicine: Compassion during Conflict
The Common & Quirky Mascots of Kansas
Feel Your Oats (With Help From a Goat)
Kansas's Unstoppable Pandemic: The Spanish Flu of 1918-1919
Notorious Salina, the Naughty and the Nice
Throw like a Girl
Wilderness Medicine

Defining the Other: A History of Racial Stereotypes
Etzanoa: Uncovering the Great Settlement
Excavations at Fool Chief's Village
Immigration in Kansas
Kansas BC
The Osage Nation, A Brief History
Petroglyphs of the Kansas Smoky Hills
Robert Caldwell: Teacher, Leader, Mentor, Mayor
Views of the West from the First Peoples of the Great Plains

Beans, Buffalo, Bacon, Birds, Berries & Biscuits: What did they eat on the Santa Fe Trail?
Bullets, Badges and Bridles: Horse Thieves and the Societies that Pursued Them
Cowboys and Clerics
Frontier Kansas Jails
Head 'Em Up & Move 'Em Out
Kansas Forts and Bases
Kansas Legends and Folktales
Notorious Kansas Bank Heists: Gunslingers to Gangsters
The Two Greatest Cattle Trails
Uncovering the Stories of Our Homesteader Relatives

AAM: The Last Farm Movement
Ad Astra – Ad Venture
Feel Your Oats (With Help From a Goat)
Immigration in Kansas
Robert Caldwell: Teacher, Leader, Mentor, Mayor
The Tall-Tale Postcards of Dad Martin and Pop Conard
William Phillips: Founder, Fighter, Friend
Women Rising: How Kansas Women Gained the Vote, 1859-1912

Coronado Heights: Myth, Oral Tradition and a Personal Connection
DC3
Head 'Em Up & Move 'Em Out
History of Camp Phillips
History of Schilling Air Force Base
History on a Piece of Cloth: Kansas Flour Sacks
Life & Times: Segregation in Salina
Marymount College – A History
Notorious Salina, the Naughty and the Nice
Petroglyphs of the Kansas Smoky Hills
A River Runs Through It
Robert Caldwell: Teacher, Leader, Mentor, Mayor
Schilling Air Force Base Closure: +50
William Phillips: Founder, Fighter, Friend

Ideas for Kansas Explorers
Kansas Train Tales
The Last Wild Places of Kansas
Lost Kansas Communities
Make Art not War
A Photographer's Work … and the Work of Western Kansas
The Tall-Tale Postcards of Dad Martin and Pop Conard
Transforming the Commonplace: Seed Portraits, Hair Wreaths and Butter Sculptures
Where Travel & History Meet: The Making of Kansas: The Center of it All

The Challenges of Civil War Disability
The Civil War in Kansas
Civil War Medicine: Compassion during Conflict
Kansas Forts and Bases
Life in the Trenches
Make Art not War
Making Sense of World War I
Vietnam War in Perspective