Lending Library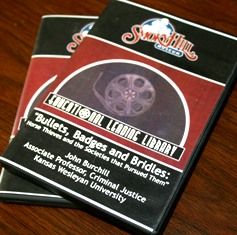 Enhance your lessons with free video presentations from the Smoky Hill Museum's Educational Lending Library. Expose your students to quality, engaging presentations offered by professors, historians, authors and more. This is a working, growing library with topics such as the impressive DC3 weather project, animals of the Pleistocene, cattle trails, the history of Camp Phillips, Schilling Air Force Base and more. Available to educational entities only.
Contact Nona Miller, Curator of Education, to check out a DVD by calling 785-309-5776 or email nona.miller@salina.org.
List of DVDs
This list is constantly growing. Please contact Nona Miller for the most up-to-date list.
A Photographer's Work…and the Work of Western Kansas

This very visual presentation shows many of the iconic images taken by F.M. Steele. Dr. Hoy also provides historical background and important information about both the photos and the times they were taken.

The American Grain Elevator

They're called sentinels, standing guard over expansive fields and grasslands. They're also called lighthouses of the plains, directing travelers to the nearest town "They" are grain elevators, and they're celebrated in the book, The American Grain Elevator: Function & Form. In this engaging video, author Linda Laird discusses these unique structures, why and when they began, purposes, different materials used and more. There are also a number of close-up shots of collectible items and pictures. But wait, there's more. When you borrow this interesting video, you'll also be borrowing a copy of the featured book, which was the culmination of a 20-year project to photograph and document American grain elevators. (Note: the sound drops briefly at 2:23) (Running time: 43:59)

Beans, Buffalo, Bacon, Birds, Berries & Biscuits: What did they eat on the Santa Fe Trail?

Everyone who traveled the Santa Fe Trail had to eat. Leo Oliva uses the words of the men and women who were there to share about food on the trail - the foods eaten, the preparation and the dining experience.

Bullets, Badges and Bridles: Horse Thieves and the Societies that Pursued Them

Kansas was the center of operations for many bands of horse thieves as well as anti-horse thief societies. Find out why in this visual and gripping presentation. Learn about individual horse thieves, gangs and what was going on in society at the time.

The Civil War in Kansas

The soil of Kansas has nourished plentiful harvest and strong men and women, has absorbed the rain and the last words of fatally wounded soldiers, and it holds the memories of hard-fought Civil War battles. Join Dr. Merle "Boo" Hodges as he shares

Civil War Medicine: Compassion During Conflict

During the harsh, stark and often bloody reality of the Civil War, field hospitals and surgeons did their best to stop disease and mend broken and bullet-ridden bodies. Join Dr. Michael Monaco as he discusses the medical practices of the Civil War.

DC3

Look in the sky! It's a bird! It's a plane! Actually, it's three tricked out planes, used by the amazing DC3 project. Salina was the base location and project operations center for the DC3 (Deep Convective Clouds and Chemistry Project). Join Dr. Steven Rutledge, Atmospheric Science Professor at Colorado State University, and principal investigator for the DC3 project, as he lays a foundation of understanding about ozone, lightening and clouds then proceeds to outline the exciting DC3 project. Using aircraft equipped with impressive and extensive scientific instruments, the project worked to provide comprehensive measurement of how clouds precipitate, how they make lightening, how they process chemicals in the atmosphere and what impacts they may have on climate in the long term. (Running time: approx. 1 hour)

Excavations at Fool Chief's Village

There are insights and secrets in the dirt right beneath our feet – just waiting to be unearthed. Fool Chief's Village, a Kansa village, offers many such insights and secrets. It was occupied between 1830 and 1844, the largest of three villages in use. Things were changing fast. Treaties were being signed, cultures were clashing and a way of life was beginning to disappear for the People of the Plains. This visual presentation offers a history of the site, previous and current excavations, maps, images of discovered objects and conclusions. Tricia Waggoner, Highway Archaeologist for the Kansas State Historical Society leads this interesting discussion. (Running time: approx. 1 hour)

Head 'Em Up & Move 'Em Out

Join Jim Gray for this exciting story of cowboys, cattle and the steak on your plate, including how Ellsworth and Salina fit into the drive. Interesting stories and great information.

History of Camp Phillips

Camp Phillips was born of necessity, used for training troops for war and then taken apart. While it was in use for a relatively short time - its legacy lives on. Join Dr. Merle "Boo" Hodges as he shares about the men, the mission and the memory of Camp P

History of Schilling Air Force Base

Using numerous photos and memorabilia, Tim Roggers, executive director of the Salina Airport Authority, introduces you to twenty well and littleknown facts about the base. Also see a sneak peek of the Wings Over Salina Aviation Experience.

History on a Piece of Cloth: Kansas Flower Sacks

These practical pieces of cloth often expressed political views, showed advertising trends, marketing schemes, cultural themes and more. Join Nancy Jo Leachman for this very visual talk about flour sacks. She'll showcase her new additions and Salina sacks

Kansas BC

Dr. Blakeslee talks about the travels, interests, trading habits and lives of earlyPlains People. He's especially interested in their study of and understanding of meteors.

Kansas Train Tales

All aboard! In this engaging video, Kansas author Robert Collins shares some of his extensive knowledge of area train lines. This video is driven by audience questions and topics covered including the Doodlebug, the train on display in Salina's Oakdale Park, the Andover train robbery, Harvey Houses, Native Americans and more.

Robert Collins is the author of more than 14 books and numerous articles and short stories. Filmed April 1, 2010, as the Smoky Hill Museum's First Thursday presentation. (Running time: approx. 35 minutes)

Lions and Tigers and Bears: A Walk on the Wild Side

The prairie has always had its share of interesting and frightening animals. Join Dr. David Burnham as he discusses animals of the Pleistocene Epoch, including camels, mastodons and saber-toothed cats. This is a highly visual video.

Lost Kansas Communities

Kansas has nearly 9,000 disappeared towns and communities. M.J. Morgan shares stories of persistence and failure. She also discusses the importance, methods and challenges of researching towns. MJ is research dir at the Chapman Cntr for Rural Studies

Marymount College - A History

Join Dr. Patricia Ackerman as she shares stories and photos she discovered during the process of archival research and the writing of her book, Marymount College of Kansas: A History.

Oceans of Kansas

Explore the days when Kansas was under water and teeming with incredible ocean creatures with Mike Everhart, adjunct curator of paleontology at the Sternberg Museum of Natural History. He is also the author of the book Oceans of Kansas. Mike employs striking visuals and engaging discussion to bring alive a time of scales and teeth. Filmed at the Smoky Hill Museum's March 2010 First Thursday presentation. (Running time: approx 1 hour 19 minutes)

The Tall-Tale Postcards of Dad Martin and Pop Conard

You've seen them. Postcards with hard to believe images, like farmers using logging saws to slice ears of corn or monster grasshoppers that could stop a train. In this engaging video, Erika Nelson discusses these and other postcards of William H. "Dad' Martin and Frank D. "Pop" Conard. From the early 1900s through 1940, their crafted images pushed the medium of photography and promoted Kansas in unique ways. Erika Nelson is the creator and curator of the World's Largest Collection of the World's Smallest Versions of the World's Largest Things Traveling Roadside Attraction and Museum. (Running time: approx. 1 hour)

The Two Greatest Cattle Trails

It was a world of dust and horns. A place where many men learned their "true grit." Cattle trails weren't for the faint of heart, and Salina was nestled between the two greatest trails, the Chisholm and Western. This engaging presentation covers the history of cattle trails, challenges, the drive itself and much more. Dennis Garstang is a member of the Wild West History Association. Filmed May 6, 2010, at the Smoky Hill Museum's First Thursday presentation. (Running time: approx. 42 minutes)

Understanding the Maya and the 2012 Apocalypse: Fact or Fiction?

Delve into 2012! This engaging and visual presentation helps separate fact from fiction and reality from hype. Dr. Heather McCrea discusses a number of the 2012 apocalyptic theories and philosophies, then turns her attention to the Maya calendar, writing systems, world views and more. Dr. Heather McCrea is an assistant professor of history at Kansas State University. Filmed June 3, 2010, at the Smoky Hill Museum's First Thursday presentation. (Running time: approx. 1 hour 5 minutes)

Where Travel & History meet: The Making of Kansas: The Center Of It All

Learn about unique, beautiful and little-known Kansas travel destinations - just in time for summer vacation! Join Audrey Kalivoda as she explores the history behind featured places and shares about the process of making Kansas: The Center Of It All.

The Worst of Times: Life in America During the Great Depression

What was life really like in the 1930s? Join Dr. Robert Weems as he explores some of the major factors that caused the Depression and how it affected the economy, especially workers. He'll also discuss help, from the gov't and from Hollywood.

Women Rising: How Kansas Women Gained the Vote, 1859-1912

KS women gained the vote in 1912, eight years before Congress passed the 19th Amendment, granting voting rights to all American women. Join Diane Eickhoff as she explores the many obstacles Kansas women had to overcome on their way to the voting booth.
No items are currently configured.