Originally an exhibit about Company M of Salina, Life in the Trenches morphed into a traveling exhibit focusing on the miserable nature of the trenches using vivid, first-hand accounts from Kansas soldiers of their ordeals, trials, and tribulations.
This mobile exhibit comes in a flexible arrangement that can be modified to meet your space requirements. Students, teachers, and visitors will love the concise story that focuses on Kansas soldiers in the trenches of WWI. Included with this exhibit are three interactive elements and a packet of educational activities that can be utilized by staff and/or teachers to expand upon the topics covered.
Exhibit Themes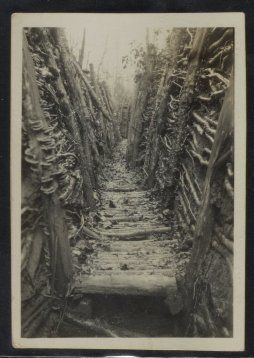 What was the reasoning behind using trenches in the war?
What did the trenches look like?
What was life like in the trenches?
What are examples of Kansans in the trench?
Exhibit Support
Earl Bane Foundation
City of Salina Kansas
Friends of the Smoky Hill Museum
Exhibit Designed and Produced by Smoky Hill Museum, a division of Salina Arts and Humanities, a department of the City of Salina, Kansas. The exhibit team: Rosa De La Cruz, Susan Hawksworth, Hannah Mahnken, Nona Miller, Joshua Morris, Kay Quinn, and Jennifer Toelle.
The Smoky Hill Museum gratefully acknowledges the contributions of the many individuals who shaped our thinking during exhibition development, including Doran Cart, Senior Curator at the National WWI Museum and Memorial.
For additional questions, contact Joshua Morris, Curator of Exhibits, at josh.morris@salina.org.