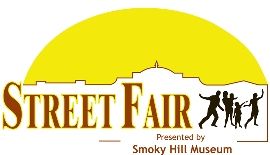 September 24, 2022
Volunteer as an Individual or as a Group
Volunteer opportunities abound at the Smoky Hill Museum Street Fair. Approximately 70 volunteers are needed each year to put on this family friendly event. Volunteers should be high school or older or accompanied by an adult. The typical shift for the day is for 3 hours, although some people like to volunteer all day. There is some shift flexibility with prior arrangements.
We appreciate and value you. For your safety and well-being, we are making arrangements to comply our best with the KDHE guidelines, marking social distancing spaces, free timed ticket museum visit, having one way only entrance and exit, all stations and demonstrators are going to be provided with hand sanitizer, and crafts are going to be in the format of Grab n' Go. "We strongly encourage everyone, regardless of vaccination status, to practice social distancing and mask-wearing"

We're using SignUp.com (the leading online SignUp and reminder tool) to organize our upcoming SignUps.
Here's how it works in 3 easy steps:
1) Click this link to see our SignUp on SignUp.com: https://signup.com/go/gAVmFKg 
2) Review the options listed and choose the spot(s) you like.
3) Sign up! It's Easy - you will NOT need to register an account or keep a password on SignUp.com.
Note: SignUp.com does not share your email address with anyone. If you prefer not to use your email address, please contact Rosa de la Cruz or call 785-833-8021 and she can sign you up manually.