This is just a sampling of the many books available in the Museum Store. Please call 785-309-5775, if you are looking for a specific book to see if we carry it.
Bullets, Badges, and Bridles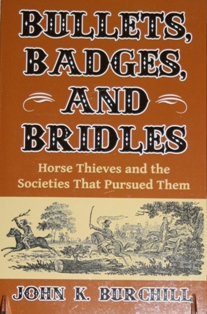 Salinan John Burchill has written of the plague of horse thievery from the Colonial Era through the early 20th century. The horse, being one of the most valuable rsources vital to survival was a lucrative pursuit of outlaws. Find out how anti-horse theft societies brought ganges of thieves to justice. Paperback.